UEFA: WE WILL DISQUALIFY YOU (SEE FULL DETAILS)
Uefa has threatened to disqualify England and Russia from Euro 2016 if there is any further violence by fans.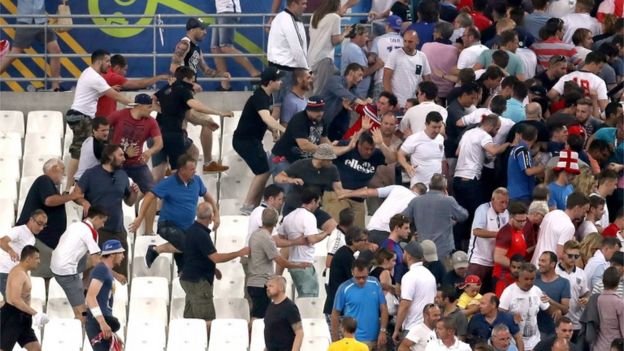 It has begun disciplinary proceedings against Russia – but not England – after "totally unacceptable" scenes at Saturday's England-Russia game.
Footage appeared to show Russia fans rush at England supporters after the Euro 2016 1-1 draw in Marseille.
Charges against Russia are for crowd disturbances, racist behaviour, and setting off fireworks, Uefa confirmed.
There were issues with segregation of fans, the body admitted, promising security would be "strengthened".
The UK government said it had offered to send extra British police to France ahead of England's next match in Lens on Thursday.
Witnesses said trouble began in the stadium after flares were let off by Russian fans near the end of the game. Some then climbed across barriers designed to keep rival fans apart.
A number of Russia supporters appeared to kick and punch fleeing England fans, who were forced to clamber over fencing to escape.
Earlier in the day, England, Russia and local fans were embroiled in ugly clashes with riot police, with a number of bloodied fans being taken to hospital.
In a strongly-worded statement, European football's governing body said it would not hesitate to impose sanctions on either Russia or England should such violence occur again.
Measures included the potential disqualification of their respective teams from the tournament, it said.