Peru send Brazil home over Controversy handball (Full Details)
Who exactly was the referee talking to for four minutes as he reached the decision to award Peru's winner?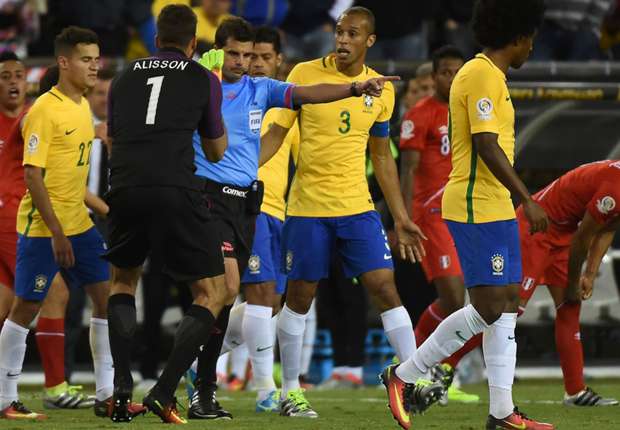 After almost four minutes of consultation between the referee and somebody on the other end of his headset – apparently not a video referee – Raul Ruidiaz's winning goal, scored with the aid of his hand, was allowed to stand.
The Selecao's final group game against Peru, in which the winner qualified in first place and the loser was eliminated, was a dull affair for 75 minutes. Dunga's side looked blunt, but was in control nevertheless and appeared to be heading towards the quarterfinals with a draw.
But the game sparked into life in incredible circumstances when Peru substitute Ruidiaz bundled in Andy Polo's cross with a combination of forearm and thigh.
The Brazil players were adamant it was a handball and surrounded the referee, who went to consult with his assistant. It quickly became clear that neither could make a call one way or the other.
Referee Andres Cunha, in the face of rabid complaints from all 22 players and a fair few substitutes, tried to pull himself away from the crowd to hear the information coming back at him down the earpiece. But who was he speaking to, and what information was passed on?
This edition of the Copa America, held in the United States, was announced on the eve of the tournament as the first around the world to implement new rules put in place by the International Football Association Board.
It had been earlier reported that the use of video assistants would be permitted, but the Copa's press release confirmed only minor tweaks to the rules regarding yellow card accumulation, a lack of extra-time until the final, and the ability to bring on a fourth substitute if the final does require an extra 30 minutes.
To repeat, there is no video referee at this tournament. So who was the referee talking to for almost four full minutes? That amount of time may not seem a lot to those accustomed to U.S. sports, but it is a lifetime in this sport.
...