Kim Kardashian And Kanye West Welcome A Bouncing Baby Boy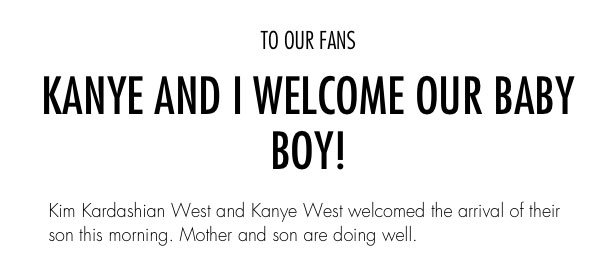 Kim Kardashian And Kanye West Welcome A Bouncing Baby Boy

Kim Kardashian
gave birth to a bouncing baby boy on friday night — with hubby Kanye West by her side at an LA-area hospital.
The reality start posted the above birth announcement on her website and a selfie on Instagram last night as contractions started, captioning the pic, "Ready when you are lol."
So no Christmas baby Yeezus for the second-time parents … Kim's Dec. 25 due date was too late for the little boy. After recently enduring a procedure to turn the baby, who was breech, the heavily-pregnant mom was ready to pop!
The heir to the crown of cool is still without a name. He came into the work in the wee hours of Saturday morning and reports claim Kim and Kanye still haven't chosen a moniker. Let the guessing begin! …