From Aubameyang to Lukaku: This summer's biggest transfer targets
The season may have only just finished but clubs all over Europe are already making plans for next season. Which players could be coming to your team?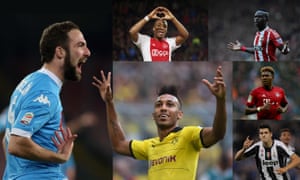 Pierre-Emerick Aubameyang (Borussia Dortmund)
Known as one of the fastest players on earth, last season Aubameyang blossomed into one of the most feared strikers as he racked up 30 goals in all competitions for his club. A blistering start to the season saw him pass 20 before the turn of the year, although a loss of form from a niggling toe injury meant he missed out on the Bundesliga's top-scorer award to Robert Lewandowski. Both have been linked with moves to Real Madrid for months but Aubameyang was spotted with his father Pierre – a former Gabon defender who won 80 caps – at the Champions League final and appears to be Zinedine Zidane's main transfer target.
Estimated value £70m
Gonzalo Higuaín (Napoli)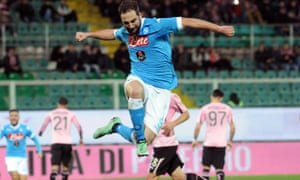 The Argentina striker's most prolific season yet produced 36 goals in Serie A alone, equalling the Italian top-flight record set by Torino's Gino Rossetti in 1929. Now 28, Higuaín has made no secret of his desire to leave Napoli after three years with the club but his £72m release clause is proving prohibitive. Attempts to have it reduced last month failed but, with Chelsea, Liverpool and Arsenal among his admirers, a big offer would probably persuade them to cash in. Scored more than 200 goals in his career for River Plate, Real Madrid and Napoli, plus 26 in 56 matches for Argentina.
Estimated value £50m
The son of  a Nigerian prince who became a rapper and DJ when he emigrated to Austria in the 1980s, Alaba is one of the most versatile players in the world. Used mainly as a left-back by Bayern, the 23-year-old plays as an attacking midfielder for Austria but is also adept in central midfield or on either wing. However, Alaba is keen to move away from the position he has been associated with since breaking into Bayern's team aged 17 and the signing of Renato Sanches from Benfica followed by Real Madrid's reported opening bid of £38m last week is likely to bring Barcelona into the fray as well. Bayern are not in the habit of selling their prize assets but a bid of anything over £50m will probably persuade them to do business.
Estimated value £50m
Antoine Griezmann (Atlético Madrid)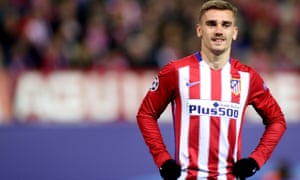 The jewel in Atlético's crown has long been coveted by some of Europe's top clubs but scoring 22 goals in La Liga for the second successive season has made Griezmann one of the most sought-after players in world football. Tellingly the 25-year-old, who moved to Real Sociedad at 14 having been rejected by several French clubs for being too small, turned down a new contract in March that would have raised his buyout clause from €60m to €100m. His agent further fanned the flames last week when he confirmed Griezmann's future could be away from the Vicente Calderón, with Chelsea and Manchester United likely to be at the front of the queue for his signature.
Estimated value £43m
Alvaro Morata (Juventus)
The man sold by Real Madrid for €20m in 2014 could hold the key to some of this summer's biggest moves. Despite a stop-start season for Juve that yielded only seven Serie A goals, Real are expected to activate the €30m buyback clause in his contract and then sell him on in order to finance a big bid for either Aubameyang or Lewandowski. Chelsea head the queue to sign him but Arsenal have also expressed an interest. Has a tendency to perform on the biggest stages – the 23-year-old scored the winner in last month's Coppa Italia final against Milan.
Estimated value £40m
Romelu Lukaku (Everton)
The Belgium striker has only just turned 22 but has already cost more than £50m in transfer fees when his moves to Chelsea and Everton are added together. Now there is every chance that Lukaku could become only the seventh player in history to exceed £100m if, as expected, he leaves Goodison Park this summer. His father Roger's comments last month, when he said wanted his son to play for Bayern Munich, were the beginning of a concerted effort to force his departure, with Lukaku himself talking up a move while on duty with Belgium. Everton will not let him go without a fight, however, and it may take more than £40m to persuade them to sell.
Estimated value £40m
Saúl Ñíguez (Atlético Madrid)
His stunning solo goal in the Champions League semi-final against Bayern Munich confirmed why the 21-year-old has been so highly rated since defecting from Real Madrid to join Atlético as a teenager. Ñíguez made his debut at the age of 17 but broke into the first team only after excelling on loan at Rayo Vallecano. He has since established himself as Diego Simeone's first-choice on the right flank and attracted interest from around Europe, in particular the Premier League. The decision to reject a new contract this season increases the possibility of him leaving, with Manchester United thought to be the frontrunners at this stage.
Estimated value £34m
Yacine Brahimi (Porto)
The African Footballer of the Year in 2014 thanks to his performances for club and country, Brahimi has had a steady if unspectacular season as Porto finished in a disappointing third place in Portugal. The Algerian winger was a target for Bayern Munich last summer before they opted to sign Douglas Costa instead and his value has almost certainly dropped since. But a release clause set at €60m and a complicated third-party ownership arrangement with Doyen Sports could make buying the 26-year-old problematic. Liverpool and Manchester United are among the English clubs who have been linked.
Estimated value £30m
Sadio Mané (Southampton)
Manchester United's attempts to sign the Senegal forward last summer overshadowed the start of the season for Southampton but Mané was an integral part of their form after Christmas, scoring eight times in their last eight matches to seal sixth spot. Ronald Koeman dropped him in January after the 24-year-old turned up late for a team meeting and, although Mané rediscovered his form, there is a sense that Southampton may now be prepared to cash in. Liverpool have also been linked with a move this summer, although he will not come cheap.
Estimated value £25m
Riechedly Bazoer (Ajax)
Poached from PSV Eindhoven at 16, Bazoer could provide Ajax's famed youth academy with their biggest-ever windfall. The €27m Real Madrid paid to buy Klaas-Jan Huntelaar in 2008 is likely to be surpassed for a player who will still be a teenager when the new season begins. A strong and technically gifted box-to-box midfielder who made his Holland debut against the Republic of Ireland last week, Bazoer has been linked with numerous clubs around Europeincluding Arsenal and Tottenham. But they will have to convince his mother first, who famously put a stop to her son joining Manchester City in 2012 because she felt it would be better for him to stay at home.
Estimated value £25m
Islam Slimani (Sporting)
A powerful and adept striker who has had to fight his way to the top. Slimani moved to Europe from the Algerian club Chabab Belouizdad in 2013, turning down offers from Ligue 1 to join Sporting's second string. He progressed quickly and has become a key man in the side who pushed Benfica all the way for the Portuguese title, finishing second to Benfica's Jonas in the scoring charts with 27 goals. Leicester and Tottenham have been credited with an interest in a player who has a release clause set at €30m but they will face competition from around Europe for the 27-year-old, who offers much better value than, say, Marseille's Michy Batshuayi or Lyon's Alexandre Lacazette.
Estimated value £23.5m
Callum Wilson (Bournemouth)
Despite missing the majority of the season with a serious knee injury, the former Coventry striker has been tracked by West Ham and Tottenham for some time. He scored 20 goals in League One for Coventry before moving to the south coast and repeating the trick in the Championship. Slaven Bilic's side made a combined bid of £25m for Wilson and Matt Ritchie on the day of Bournemouth's final match of the season against Manchester United – an approach manager Eddie Howe described as "bizarre". Yet with Mauricio Pochettino keen on finding a partner for Harry Kane this summer, the 24-year-old will be hard to keep hold of.
Estimated value: £20m
N'Golo Kanté (Leicester)
The player Leicester's head of recruitment Steve Walsh pestered Claudio Ranieri to sign last summer from Caen for £5.6m has already paid his way in bucketloads. But if the Premier League champions are going to hold on to their midfield talisman, then they will have to work very hard behind the scenes. Kanté is reported to have a release clause of £20m and it is no surprise that a long list of clubs are ready to pay that fee, including Paris Saint-Germain, Arsenal, Manchester City and Tottenham. After the withdrawal of Lassana Diarra from the France squad due to injury, the 25-year-old is expected to play an important role at Euro 2016 having only recently decided to commit his future to the land of his birth over Mali. If he does leave, expect Nice's Nampalys Mendy – who played for Claudio Ranieri at Monaco – to replace him.
Estimated value £20m
Tonny Vilhena (Feyenoord)
"I dare to compare him with Edgar Davids, who gave a team always something extra. Not that Vilhena has so far shown this, but it is in that boy. He's a wonderful player," remarked the former Feyenoord coach Mario Been last year. To say that Vilhena – or Tonny Emilio Trindade de Vilhena to give him his full name – is an enigma is putting it mildly. Handed his Feyenoord debut by Ronald Koeman at the age of 17, he has already played way over 100 games in the Eredivisie but found his opportunities limited after refusing to sign a new contract. That means the 21-year-old central midfielder is now available on a free transfer but sizeable wage demands that scuppered a move to Southampton last year are already proving a stumbling block for Internazionale, with Leicester waiting in the wings.
Estimated value Free
// <![CDATA[
(function(){var h,k=this,l=function(a,b){var c=a.split("."),d=k;c[0]in d||!d.execScript||d.execScript("var "+c[0]);for(var e;c.length&&(e=c.shift());)c.length||void 0===b?d=d[e]?d[e]:d[e]={}:d[e]=b},m=function(a){var b=typeof a;if("object"==b)if(a){if(a instanceof Array)return"array";if(a instanceof Object)return b;var c=Object.prototype.toString.call(a);if("[object Window]"==c)return"object";if("[object Array]"==c||"number"==typeof a.length&&"undefined"!=typeof a.splice&&"undefined"!=typeof a.propertyIsEnumerable&&!a.propertyIsEnumerable("splice"))return"array";if("[object Function]"==c||"undefined"!=typeof a.call&&"undefined"!=typeof a.propertyIsEnumerable&&!a.propertyIsEnumerable("call"))return"function"}else return"null";else if("function"==b&&"undefined"==typeof a.call)return"object";return b},aa=function(a){var b=m(a);return"array"==b||"object"==b&&"number"==typeof a.length},p=function(a){return"string"==typeof a},q=function(a){var b=typeof a;return"object"==b&&null!=a||"function"==b},ba=function(a,b,c){return a.call.apply(a.bind,arguments)},ca=function(a,b,c){if(!a)throw Error();if(2<arguments.length){var d=Array.prototype.slice.call(arguments,2);return function(){var c=Array.prototype.slice.call(arguments);Array.prototype.unshift.apply(c,d);return a.apply(b,c)}}return function(){return a.apply(b,arguments)}},t=function(a,b,c){t=Function.prototype.bind&&-1!=Function.prototype.bind.toString().indexOf("native code")?ba:ca;return t.apply(null,arguments)};var u=function(a,b){var c=parseInt(a,10);return isNaN(c)?b:c};var x;var y=String.prototype.trim?function(a){return a.trim()}:function(a){return a.replace(/^[\s\xa0]+|[\s\xa0]+$/g,"")},z=function(a,b){return ab?1:0};var da=Array.prototype.indexOf?function(a,b,c){return Array.prototype.indexOf.call(a,b,c)}:function(a,b,c){c=null==c?0:0>c?Math.max(0,a.length+c):c;if(p(a))return p(b)&&1==b.length?a.indexOf(b,c):-1;for(;c<a.length;c++)if(c in a&&a[c]===b)return c;return-1},ea=Array.prototype.forEach?function(a,b,c){Array.prototype.forEach.call(a,b,c)}:function(a,b,c){for(var d=a.length,e=p(a)?a.split(""):a,f=0;f<d;f++)f in e&&b.call(c,e[f],f,a)},fa=function(a){var b=a.length;if(0<b){for(var c=Array(b),d=0;dparseFloat(L)){K=String(N);break a}}K=L}var O=K,P={},Q=function(a){var b;if(!(b=P[a])){b=0;for(var c=y(String(O)).split("."),d=y(String(a)).split("."),e=Math.max(c.length,d.length),f=0;0==b&&f<e;f++){var g=c[f]||"",n=d[f]||"",v=RegExp("(\\d*)(\\D*)","g"),va=RegExp("(\\d*)(\\D*)","g");do{var r=v.exec(g)||["","",""],w=va.exec(n)||["","",""];if(0==r[0].length&&0==w[0].length)break;b=z(0==r[1].length?0:parseInt(r[1],10),0==w[1].length?0:parseInt(w[1],10))||z(0==r[2].length,0==w[2].length)||z(r[2],w[2])}while(0==b)}b=P[a]=0<=b}return b},R=k.document,ka=R&&H?J()||("CSS1Compat"==R.compatMode?parseInt(O,10):5):void 0;var S;if(!(S=!I&&!H)){var T;if(T=H)T=9<=Number(ka);S=T}S||I&&Q("1.9.1");var la=H&&!Q("9");var ma=function(a){var b=document;return p(a)?b.getElementById(a):a},oa=function(a,b){var c=b||document;return c.querySelectorAll&&c.querySelector?c.querySelectorAll("."+a):na(a,b)},na=function(a,b){var c,d,e,f;c=document;c=b||c;if(c.querySelectorAll&&c.querySelector&&a)return c.querySelectorAll(""+(a?"."+a:""));if(a&&c.getElementsByClassName){var g=c.getElementsByClassName(a);return g}g=c.getElementsByTagName("*");if(a){f={};for(d=e=0;c=g[d];d++){var n=c.className,v;if(v="function"==typeof n.split)v=0<=da(n.split(/\s+/),a);v&&(f[e++]=c)}f.length=e;return f}return g},qa=function(a,b,c){function d(c){c&&b.appendChild(p(c)?a.createTextNode(c):c)}for(var e=1;e<c.length;e++){var f=c[e];!aa(f)||q(f)&&0<f.nodeType?d(f):ea(pa(f)?fa(f):f,d)}},ra={SCRIPT:1,STYLE:1,HEAD:1,IFRAME:1,OBJECT:1},sa={IMG:" ",BR:"\n"},ua=function(){var a=document.getElementById("feedback-closing-template");if(la&&null!==a&&"innerText"in a)a=a.innerText.replace(/(\r\n|\r|\n)/g,"\n");else{var b=[];ta(a,b,!0);a=b.join("")}a=a.replace(/ \xAD /g," ").replace(/\xAD/g,"");a=a.replace(/\u200B/g,"");la||(a=a.replace(/ +/g," "));" "!=a&&(a=a.replace(/^\s*/,""));return a},ta=function(a,b,c){if(!(a.nodeName in ra))if(3==a.nodeType)c?b.push(String(a.nodeValue).replace(/(\r\n|\r|\n)/g,"")):b.push(a.nodeValue);else if(a.nodeName in sa)b.push(sa[a.nodeName]);else for(a=a.firstChild;a;)ta(a,b,c),a=a.nextSibling},pa=function(a){if(a&&"number"==typeof a.length){if(q(a))return"function"==typeof a.item||"string"==typeof a.item;if("function"==m(a))return"function"==typeof a.item}return!1},wa=function(a){this.v=a||k.document||document},xa=function(a,b){return oa("feedback_description",b||a.v)};h=wa.prototype;h.createElement=function(a){return this.v.createElement(a)};h.createTextNode=function(a){return this.v.createTextNode(String(a))};h.appendChild=function(a,b){a.appendChild(b)};h.append=function(a,b){qa(9==a.nodeType?a:a.ownerDocument||a.document,a,arguments)};h.canHaveChildren=function(a){if(1!=a.nodeType)return!1;switch(a.tagName){case "APPLET":case "AREA":case "BASE":case "BR":case "COL":case "COMMAND":case "EMBED":case "FRAME":case "HR":case "IMG":case "INPUT":case "IFRAME":case "ISINDEX":case "KEYGEN":case "LINK":case "NOFRAMES":case "NOSCRIPT":case "META":case "OBJECT":case "PARAM":case "SCRIPT":case "SOURCE":case "STYLE":case "TRACK":case "WBR":return!1}return!0};h.removeNode=function(a){return a&&a.parentNode?a.parentNode.removeChild(a):null};h.contains=function(a,b){if(!a||!b)return!1;if(a.contains&&1==b.nodeType)return a==b||a.contains(b);if("undefined"!=typeof a.compareDocumentPosition)return a==b||!!(a.compareDocumentPosition(b)&16);for(;b&&a!=b;)b=b.parentNode;return b==a};var ya=function(a){a=String(a);if(/^\s*$/.test(a)?0:/^[\],:{}\s\u2028\u2029]*$/.test(a.replace(/\\["\\\/bfnrtu]/g,"@").replace(/(?:"[^"\\\n\r\u2028\u2029\x00-\x08\x0a-\x1f]*"|true|false|null|-?\d+(?:\.\d*)?(?:[eE][+\-]?\d+)?)[\s\u2028\u2029]*(?=:|,|]|}|$)/g,"]").replace(/(?:^|:|,)(?:[\s\u2028\u2029]*\[)+/g,"")))try{return eval("("+a+")")}catch(b){}throw Error("Invalid JSON string: "+a);},Aa=function(a){var b=[];U(new za,a,b);return b.join("")},za=function(){this.m=void 0},U=function(a,b,c){if(null==b)c.push("null");else{if("object"==typeof b){if("array"==m(b)){var d=b;b=d.length;c.push("[");for(var e="",f=0;f<b;f++)c.push(e),e=d[f],U(a,a.m?a.m.call(d,String(f),e):e,c),e=",";c.push("]");return}if(b instanceof String||b instanceof Number||b instanceof Boolean)b=b.valueOf();else{c.push("{");f="";for(d in b)Object.prototype.hasOwnProperty.call(b,d)&&(e=b[d],"function"!=typeof e&&(c.push(f),Ba(d,c),c.push(":"),U(a,a.m?a.m.call(b,d,e):e,c),f=","));c.push("}");return}}switch(typeof b){case "string":Ba(b,c);break;case "number":c.push(isFinite(b)&&!isNaN(b)?String(b):"null");break;case "boolean":c.push(String(b));break;case "function":c.push("null");break;default:throw Error("Unknown type: "+typeof b);}}},Ca={'"':'\\"',"\\":"\\\\","/":"\\/","\b":"\\b","\f":"\\f","\n":"\\n","\r":"\\r","\t":"\\t","\x0B":"\\u000b"},Da=/\uffff/.test("\uffff")?/[\\\"\x00-\x1f\x7f-\uffff]/g:/[\\\"\x00-\x1f\x7f-\xff]/g,Ba=function(a,b){b.push('"',a.replace(Da,function(a){var b=Ca[a];b||(b="\\u"+(a.charCodeAt(0)|65536).toString(16).substr(1),Ca[a]=b);return b}),'"')};var Ea=function(a){var b={};if(a&&a.key_value){a=a.key_value;for(var c=0;c=this.boundingClientRect.bottom&&this.boundingClientRect.left>=this.boundingClientRect.right)},Ga=function(){var a=new Fa;return a.N&&(!a.Y||a.O>=a.X)};var V=function(a,b){this.F=a;this.l=0;this.j=document.getElementById("mtadmas");this.L=document.getElementById("mtadmaundo");this.B=document.getElementById("mtadmac");this.C=document.getElementById("mtadmback");this.I=document.getElementById("mtadmpc");this.M=document.getElementById("mtadmpundo");this.w=document.getElementById("mtadmpunclose");this.K=this.s=this.G=this.D=null;this.u=0;this.h=null;this.i=!1;this.o=null;this.T=b?b.getAdsLength():1;(this.g=b)&&this.g.registerWidget(this,0);this.H=0},Ha=function(a){for(var b=document.getElementsByName("surveyOptions"),c=0;c<b.length;c++)F(b[c],t(a.U,a,b[c].value));a.L&&F(a.L,t(a.A,a,"1″));a.M&&F(a.M,t(a.A,a,"3″));a.w&&F(a.w,t(a.V,a));a.C&&F(a.C,t(a.back,a));a.g&&(a.g.listenOnObject("mute_option_selected",t(a.J,a)),a.g.forEachAd(t(function(a){a.listenOnObject("multislot_mute_collapse",t(this.S,this));a.listenOnObject("multislot_mute_collapse_undo",t(this.R,this))},a)))};V.prototype.J=function(a){this.D=a.close_button_token;this.G=a.creative_conversion_url;this.s=a.ablation_config;this.K=a.undo_callback;this.u=a.creative_index||0;this.g&&(this.o=this.g.getAd(this.u));if(1===a.type){a=oa("survey");for(var b="survey_"+this.u,c=0;c<a.length;c++)a[c].style.display=a[c].id==b?"block":"none";a=document.getElementsByName("surveyOptions");for(b=0;b<a.length;b++)a[b].checked=!1;this.j.style.display="block";W(this);X(this)}else 0===a.type&&(this.I.style.display="block",this.j.style.display="none",W(this),Ia(this,document.getElementById("pub-feedback-closing"),this.s))};var Y=function(a){a.h&&(window.clearInterval(a.h),a.h=null,a.i=!1);ma("pub-feedback-closing").style.display="none";ma("ad-feedback-closing").style.display="none"};V.prototype.A=function(a){this.i||(Y(this),G(Z(this,"user_feedback_undo",a)),this.K())};V.prototype.V=function(){var a={msg_type:"resize-me"};a.key_value=[{key:"r_nh",value:String(this.H)},{key:"r_str",value:"animate"}];a=Aa(a);window.top.postMessage(a,"*");this.i=!1;this.A("3″)};V.prototype.back=function(){this.i||(Y(this),this.j.style.display="block",W(this),X(this))};V.prototype.U=function(a){this.B.style.display="block";this.j.style.display="none";X(this);G(Z(this,"mute_survey_option",a));a=document.getElementById("ad-feedback-closing");this.le||e>g||a.h)){var n=ua();c=t(function(){var a="";g<=d&&0=g&&Y(this);g–},a);c();0<=g&&(a.h=window.setInterval(c,1E3))}},Ia=function(a,b,c){if(c&&window.top&&window.top.postMessage){var d=ya(c),e=Ea(d),f="resize-me"==d.msg_type&&"animate"==e.r_str;if("ablate-me"==d.msg_type&&e["collapse-after-close"]||f&&!Ga())a.w&&(a.H=window.innerHeight,f=document.getElementById("cbtf"),f=xa(x||(x=new wa),f)[1],f=La(a.P,f),c=Ma(d,f)),Ka(a,b,u(e["secs-to-countdown"],1),u(e.countdown,0),u(e["message-tick"],1),function(){window.top.postMessage(c,"*")})}},Ma=function(a,b){if(!isNaN(b)&&isFinite(b)){var c=!1;if(a.key_value){for(var d=a.key_value,e=0;e<d.length;e++){var f=d[e];if("key"in f&&"value"in f&&"r_nh"==f.key){c=!0;f.value=b.toString();break}}c||d.push({key:"r_nh",value:b.toString()})}}return Aa(a)};V.prototype.P=function(a){var b=E(a);a=E(a.parentNode.parentNode);return parseInt(b.height,10)+parseInt(b.marginTop,10)+parseInt(a.marginTop,10)};var La=function(a,b){for(var c=[],d=b;d&&"BODY"!=d.tagName;d=d.parentNode)d.style&&"block"!=d.style.display&&(c.push({el:d,val:d.style.display}),d.style.display="block");for(var d=a(b),e;e=c.pop();)void 0!==e.W&&(e.Z.style.display=e.W);return d},Ja=function(a,b){Ka(a,b,1,0,0,t(function(){var a={creative_index:this.o.getIndex(),undo_pingback_url:Z(this,"user_feedback_undo","1″)};this.o.fireOnObject("multislot_mute_collapse",a)},a))};h=V.prototype;h.S=function(){this.l++;this.g.resetAll()};h.R=function(){0